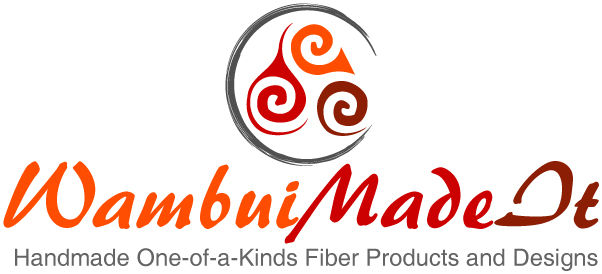 ---
The 'Wambui Made It' Story
My mother, aunt and grandmother taught me to sew when I was a child. I remember how much fun it was to sew on my grandmother's Singer sewing machine with the large treadle or pedal that was big enough for both feet to rest on.
I also remember the amazing quilts and bedspreads that my grandmother made totally by hand. My mother made dresses for my sister and me for special occasions. In the summer, my aunt made shorts for us. I have always loved fabrics and crafting. 
Last year [2012], I bought a sewing machine to make pants for myself. I don't like the hip-hugging or low-riding pants that are so popular. I like old-fashion pants with a waistband —that fits around the waist. For myself, I don't care too much for the skinny – skin-tight pants either.
I made two pair of pants and then discovered the art of making fabric pouches and purses and quilting. I haven't been the same since.
Back in the '80s, I designed and made hats and accessories. As I journey through my golden years, I find much comfort in sewing and quilting. I do a lot of one-of-a-kinds. There is creative freedom in one-of-a-kinds and it is more valuable and special to the owner.
So, I created a line of handmade products. I love experimenting with fabrics and different designs for quilts, wall hangings, purses, bags, pouches and other items that can be made with fabric. My favorite fabrics are cotton, organic cotton, linen and raw silk.
When I am not traveling and presenting one of my one-woman shows or presenting an inspirational speech or workshop, I enjoy sewing and fiber arts.
The hours I spend in my studio feel like minutes and when I come out, I have something wonderful that makes me smile.
The Wambui Made It Shop.