Domestic Violence Speaker: The Book
'Domestic Violence and Relationship Abuse 
Awareness and Prevention for College Women - A Reminder'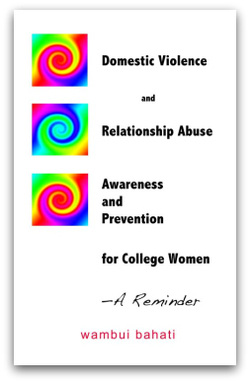 The college dating abuse statistics are alarming. Some studies suggest that 1 in 5 relationships at college involves violence. Sixteen-to-24-year-olds have the highest reported incidence of domestic and dating violence, according to Department of Justice statistics. 

This book speaks specifically to college women. It is a reminder to the reader that there is no reason to accept or stay in an abusive relationship. In the book are things to be aware of when considering a relationship, how to possibly avoid an abusive relationship and what to do if they or a friend is in an abusive relationship. 

The book encourages women to live with dignity and seek help to rebuild their self-esteem after an abusive situation.

The book is available at all online book stores and at Ms. Bahati's live presentations. You may order the book at your favorite brick and mortar store.

Available at Amazon.com and BarnesandNoble.com and all online bookstore.  Ask at your favorite 'brick and mortar' store.
---
Private Branding Available!
---
One Review from Amazon.com:
This is a must read for college freshmen!!!, January 4, 2011
This is a great book that should be given away at either high school graduation or college orientation. This book really reminds women of things we forget when we find ourselves in a new situation. We are at a new school trying to fit in and find our niche and are so busy doing that that we forget how to keep ourselves safe. We need to be reminded to listen to our gut. If we feel that something is wrong 9 times out of 10 it is. And we should always be safe than sorry. 

Some women are in abusive relationships and don't even know it. Wambui Bahati Takes characters from the play I am Domestic Violence to warn women that just because he doesn't hit you, doesn't mean you are not being abused. I hope that by reading this book the scarily high statistics of women who are abused and raped in college will decline dramatically. 

Read other reviews --
---
Continue on to:
The Play   / After the Play   / The Book  /  The Reviews
---