Wambui Bahati's Presentation Topics

---
Only Wambui Bahati Brings You these Distinctive, Phenomenally Successful, Award Winning One-Woman Shows:



Balancing Act - The Musical
(Mental Illness/Mental Health/Recovery)




I Am Domestic Violence
(Domestic Violence/Abusive Relationships)
---
Her List of Presentations Include . . .
---
Inspiration / Motivation
"How to Find Strength in Stressful Times"

* How to program each day for peace and joy
* How to focus on what is good
* Who is the matter with you?
* Understand how we are manipulated by the media and other outside forces - Take your power back!
* The healing power of laughter
* Demonstration of several instant stress releasing techniques that can be used easily
* How to tap into the power within
---
"How to Be Your Own Cheerleader"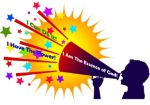 * Understanding our value
* How to honor ourselves
* Creating self-love and self-esteem
* How to see through the fire to the victory
* How to create empowering self-talk
* You - Reason to cheer and celebrate!

---
"How to Claim Your Greatness"

* Remembering who we really are
* Pushing fear aside
* How to tap into our inmate wisdom
* Understanding the mind/body/spirit connection
* How to align ourselves with our "magnificent self"
---
Mental Health / Mental Illness
"Get Crazy for Yourself -
How to Rise Above and Beyond Mental Illness"

* Understanding the history of psychiatry
* How to believe in yourself again
* The mind/body/spirit connection
* How our environments affect us
* We can always start over - How to rewrite our stories
* Understanding who we really are
* Know that we are merely reacting to the insanity outside of us
* Specific strategies to help us feel better and better


---
Non-Toxic Beauty and Health
We spend a great deal of time in researching vacation spots we want to travel to. We will ask in-depth questions about whether the car we're thinking of buying gets good mileage and drives well. However, we spend little time researching the products that we put in and on our bodies. Our bodies are our temples. In this interactive seminar we talk about our ancestors and the health and beauty secrets they knew about the plants and the earth. Wambui will share specific items that will keep us looking, feeling and smelling good while spending very little money – if any at all.
---
---
Custom Shows and Presentations
Just give Wambui an idea or a theme and she will create a workshop or whole show based on your topic and audience.
Also, please visit the Custom Presentations page.