You Dont Know Crazy
Book Reviews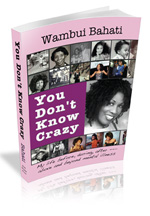 ---
"You Don't Know Crazy" Reviews
---
A Very Special Women
This is a very special story that needed to be told. It was not only written, but it was done in an extremely interesting way. If I could have given a higher rating then a five, this book would have received one.
This is an autobiography about a women who was diagnosed as having bipolar disorder. She leads us through the anguish that comes with mental illness. The bouts of uncontrollable laughter, the fits of crying, the unrestrained rage and the devastating moments of depression. The books starts with her childhood, where we meet her parents and see how they cope with segregation and racism. From there we follow her into a marriage with an abusive husband. Her second marriage to Tony turned out to be much better. They have two children together, Marie and Julie who become an integral part of the story.
As you read you will find yourself running through a gamut of emotions and you will certainly find yourself rooting for this very special women.
- Rseifert (Amazon Patron)
---
A Look Into the World of a Star ~ a.k.a. the "Crazy" Game of Life
"You Don't Know Crazy" is an insider's view of the many obstacles faced by those affected by bipolar disorder. Author Wambui Bahati invites you into her world with a no holds barred look at the life and times that created the person she is today. Born John Ann Washington, second eldest of four siblings, she had a proud, hard-working mother, and writer, lyricist father that loved her the only way they knew how. Growing up in the time of segregation, there were hardships that many today can only imagine, yet John Ann held her head high to rise above it all. She moved to New York, attended NYU and studied acting thanks to the new Minority Act providing her with full tuition. Even with her dream in reach, all the highs and lows of life kept coming at her. Her first "relationship" was unknowingly with a married man, a "non-stranger" raped her, and when it all became too much she fled to California...not because she knew someone there, but because she had lost herself. She had only just begun writing her life and yet depression, as she was originally misdiagnosed with, was dragging her done. Regaining her footing, she ventured forward on her chosen path to the destiny she designed. The road map of her life became littered with hospital stays, abusive spouses, and general hard times. Love brought her a second chance at marriage and two wonderful daughters, but this too was short lived between his family's interference and their growing apart. She was finally alone...not in the wanted sense, but in the reality of the word. A diagnosis of bipolar disorder at the age of 40 brought about a turning point on which she was able to rebuild her life and achieve those dreams that had crashed and burned long ago.
This is a story of the ups, downs, ins and outs that many have to face in the world today, along with the added stigma of being labeled "mental" due to bipolar disorder. Labels are for things, not people. Wambui Bahati brings to light the harder aspects of her life so that those in similar situations today may have a voice and see a light at the end of their tunnel; a light of acceptance and hope rather than the end of the road. A truly inspirational life story about a remarkable woman as well as an informative guide for aiding ones own self or loved ones with bipolar disorder, I'd highly recommend this book.
- G. Reba
---
A true story or a brave and couragous woman
In her book "You Don't Know Crazy' Wambui Bahati allows us to enter her world - the world of bi-polar mood disorder. Raised in a time of racial turmoil, Bahiti overcame obstacles all throughout her life. Her courage and determination to overcome her personal mental illness, at first misdiagnosed, shows readers ways to overcome their personal trials.
Throughout the book there are many places that are extremely funny, others are absolutely heart wrenching. I laughed aloud and cried silent tears as I accompanied Wambui Bahati on her personal journey from fame to devastation. This brilliant woman gives hope to those in despair. I highly recommend this book to anyone, as it sheds light on those that suffer from this misunderstood illness.
- Theresa Hurley (a review posted on Amazon)
---
Inspirational
I have to admit that I had never heard of this person prior to reading her book. However, through her story "You don't Know Crazy" I have come to admire Wambui Bahati.
Bahati suffers from mental illness and although this is one of the cornerstones of her book, she uses as a stepping board to inspire and show the world that even though you suffer from mental illness, you CAN reclaim your life.
Bahati had a terrific life to the outside world, she even appeared in shows, however, what the world did not see is a woman quickly spiraling downwards. She lost it all - left with only two options, she chose to live.
This book is written in an honest and often extremely funny way. The author obviously chooses to express herself through humor and this was quite inspiring. She retells her story and as she describes the hell that she went through, I could actually feel myself in her shoes - living it in my own head and heart.
I like the positive message this book sends out and I really like Bahati's take on life. She also included, in the book, some wonderful natural remedies and lifestyle changes that have helped her and actually could benefit us all.
This was an excellent read.
- www.bookshipper.blogspot.com
---
Review of You Don't Know Crazy by Wambui Bahati
This is a story about a woman that went from performing live on Broadway to being on welfare. But, this isn't just another story of a fallen diva from fame. There are a lot of deep underlying issues that shapes Wambui Bahati's biography.
Wambui Bahati was diagnosed with manic depressive illness at the age of 43. The story talks about some of Bahati low points in her life. Many women will be able to relate to dealing with mental illness and the different struggles of dealing with life.
There are many characters that make up a story and it's not any different with "You Don't Know Crazy". Bahati talks about her family, friends, ex-husband and other people she meet along the way. Bahati talks about her childhood and growing up in the south during the 50's. I can really relate to different parts of Bahati's story. For example, I can relate to her religious background and growing up in the south. I had a similar religious background and I grew up in the south. I can remember the church and family members telling me to live my life right or I would burn in hell. Bahati had a similar experience and didn't know what was right or wrong. Eventually, she was able to follow everyone else.
Also, I like that "You Don't Know Crazy" doesn't come off as preachy or self righteous. There have been many times that I have heard people say be positive or you should be inspired by this person success. I can remember reading a part in the book when Bahati was reading a self help book and she was so frustrated that she threw the book across the room. It was really hard for her to listen to inspirational quotes when she had problems paying the bills.
I know some people will find it shocking that Wambui Bahati had mental illness problems and was in different mental illness facilities. There are many people and families dealing with mental illness. Most of the time people don't even realize that there is a mental illness problem.
Wambui Bahati's story is so powerful and she is able to rise above it all. Also, this book is for anyone that's dealing with mental illness and it will inspire you to want overcome it.
- Elizabeth Pou (Review Source: ezinearticles.com)
---
A Heartwarming Look at the Realities of Mental Illness and a New Hope for the Future
. . . "You Don't Know Crazy" provides a frank look at aspects of mental illness that people have been avoiding for years.
Author Wambui Bahiti is well known for her frank, open look at the years she spent suffering from mental illness, and she uses the knowledge and insight she gained to reach out not only to people suffering from Bipolar disorder but also to those suffering from depression, mania and any other disorder that negatively affects their daily life. Her story is heartwarming, and readers will find comfort in following her through her trials and the strength that she eventually discovered . . .
What readers will find the most helpful, however, are the simple and practical lifestyle changes and natural remedies Bahiti suggests for overcoming dependency on narcotics to live a normal life and instead take back control of their own futures. . . . With "You Don't Know Crazy" readers will walk away feeling as though they've been given something very precious-the knowledge that they are not alone and the strength to take back control of their lives.
- By R. Malove
---
Buy a "Signed by the Author" Book Here
More About You Don't Know Crazy
Read Excerpts From the Book
Press Releases
Book Clubs, Schools, Churches, Libraries, Reading and Discussion Groups
Wambui is delighted to meet with book groups (at no cost) for 45 minute discussions -- in person, for those in the borough of Manhattan, New York City, or by telephone (on speaker or tele-seminar) for other locations. To arrange a meeting, contact her HERE.