Balancing Act - the Musical

---
"Bahati presented a tour de force that galvanized the room."
-John Hoglund (BACK STAGE - New York)
---
Balancing Act - The Musical


A One-Woman Musical Show



This is the story of how mental illness stole her life and how she took her life back!
---
---
Some said she was dead. 
Others said she was on drugs. 
She was told she would spend the rest of her life in and out of mental institutions. 
She went from Broadway star to welfare mom. 
She has been homeless. 
She has dined with a former president of the United States.
Wambui Bahati, a.k.a. John-Ann Washington, tells the real story in

BALANCING ACT - THE MUSICAL
". . . a sometimes humorous, yet always honest true story of how mental illness (severe bipolar disorder) stole Wambui's life - and how she took her life back!" - The inspiration for the book, You Don't Know Crazy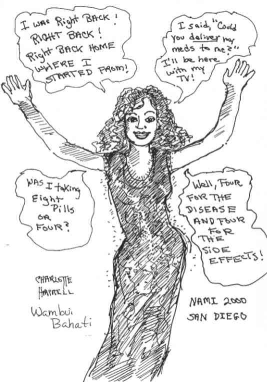 In this one-woman musical, Wambui shares her powerful story of growing up in Greensboro, North Carolina and launching a theatrical career on Broadway, only to have her success cut short by mental illness. 

At times hilariously funny and always relentlessly honest, Balancing Act presents an intelligent, informative portrayal of bipolar mood disorder and its effects on Bahati's self-esteem, career, relationships and day-to-day coping. 

From her ordeal, she emerges with strength and awareness of an inner power she did not know she had. Wambui 're-invents' herself, becomes healthy, happy, and an inspiration for others. 
---