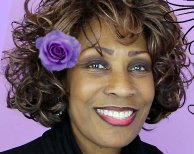 Wambui Bahati is a captivating performer with over 50 years of experience in theater and public speaking. She is a survivor of mental illness and domestic abuse. She uses her life lessons and wisdom to inspire and motivate others through her powerful performances.

Wambui, meaning "singer of songs" in Swahili, began her formal theatrical studies at the New York University School of the Arts and has had a successful career performing in Broadway productions, regional and touring shows, and custom presentations based on specific themes. She wrote, produced, and stars in the one-woman musicals "Balancing Act" about mental illness and "I Am Domestic Violence."

Wambui has received several awards for her work, including the Lionel Aldridge Award, a national honor recognizing individuals who provide extraordinary service and courage on behalf of people with mental illnesses.

She lives in New York City and is the proud mother of two adult daughters and granddaughters. In addition to her theatrical work, she has shared her love of crafting through tutorial videos. She has written the autobiographical book "You Don't Know Crazy - My Life Before, During, After, Above, and Beyond Mental Illness."