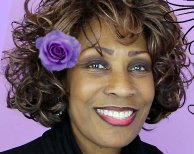 This spirited survivor rose to new heights when everyone around her felt her life as a productive citizen was over. Her doctors told her she would spend the rest of her life in and out of mental institutions.
When it seemed like her life couldn't worsen, she decided she only had two options - she could either live or die. Wambui Bahati chose to live. However, she told herself it would be on her terms if she lived.
For the past 25 years, she has researched, studied, and explored various "quality of life" altering strategies. Her mission was to find out how to have a life of joy, peace, and fabulous health – the best life possible! This inspiring woman not only 'got up' when everyone thought she was 'out for the count' but rose to new heights and continues to soar.
Today, she shares inspiration, motivation, celebration, and the strategies and techniques that were instrumental in reclaiming and turning her life around. She reveals how she nurtures her mind, body, and spirit as she continues to reinvent herself. She reminds audiences of how wonderful and powerful they already are and about the divinity she found within and the divine energy in each of us.

Today, Inspirational Speaker / Motivational Speaker - Wambui Bahati's passion is to remind you of YOUR Magnificence.