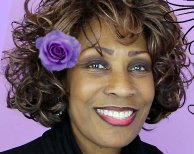 This spirited survivor rose to new heights when everyone around her felt her life as a productive citizen was over. Her doctors told her she would spend the rest of her life in and out of mental institutions.
When it seemed like her life couldn't get any worse, she decided she only had two options - she could either live or she could die. Wambui Bahati chose to live. 
For 25 years, she researched, studied, and explored various "quality of life" altering strategies. This inspiring woman not only 'got up' when everyone thought she was 'out for the count' but rose to new heights and continues to soar.
It has been a long and winding journey. Her path finally led her to Lord Jesus Christ.
Today, she is a born-again Christian and knows that it is through God's grace and mercy that she is still standing.