About Wambui Bahati
Don't let her youthful looks and boundless energy fool you! This captivating woman presents with over fifty years of professional theater and public speaking experience, spanning many venues, audiences, and cities throughout the United States, Canada, and Australia.
Since she was a child, Wambui Bahati has enjoyed entertaining others. She is a survivor of mental illness and domestic abuse. She has combined life lessons and wisdom gained through experiencing these adversities with her gifts as a performing artist. Wambui has inspired and motivated thousands of people in powerful and unique ways.
Wambui Bahati is her legal name taken on during what she refers to as a "re-invention" of herself. In Swahili, Wambui means singer of songs. Bahati means my fortune is good. At birth, she was named after her father. Her birth name and her early professional theater name was John-Ann Washington.
She began her formal theatrical studies at the New York University School of the Arts (The School is now the Tisch School of the Arts). She made her professional theatrical debut as an original cast member in Godspell at Ford's Theater in Washington, D.C. She performed in the Broadway productions of Godspell and Jesus Christ Superstar. 
Wambui's regional and touring credits include starring roles in: 
Two Gentlemen of Verona  (Joseph Papp's rock version)
Jesus Christ Superstar
The Magic Show 
Little Ham 
Nunsense
Godspell
 Don't Bother Me; I Can't Cope, 
Gone With the Wind –the musical 
The Wiz 
Crowns
Wambui wrote, produced, and stars in the one-woman musical Balancing Act about how mental illness stole her life – and how she took her life back. And the play I Am Domestic Violence. Both of these shows have received international acclaim for the unique way they provide outstanding entertainment while dealing with critical issues in our communities.

Ms. Bahati possesses the uncanny ability to create custom shows and presentations based on a specific theme or topic. 

Some of her awards include:
Woman of Achievement Award from the Greensboro Commission on the Status of Women
A Belle Ringer Image Award from Bennett College
Lionel Aldridge Award (a national honor recognizing individuals who provide extraordinary service and courage on behalf of people with mental illnesses)
National Alliance for the Mentally Ill, North Carolina's President's Award
A proclamation from the mayor of the city of Toledo, Ohio
The native Greensboro, North Carolinian, lives in New York City and is the proud mother of two adult daughters and two granddaughters. Over the past six years, Wambui has shared her love of crafting by providing various crafting tutorial videos to a Netherlands-based company, and on her YouTube channel, Wambui Made It.
Books that she has written include autobiographical,
You Don't Know Crazy - My Life Before, During, After, Above, and Beyond Mental Illness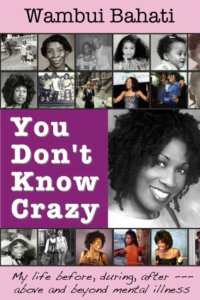 ---