---
You Don't Know Crazy -
My Life Before, During, After, Above and Beyond Mental Illness
---
Wambui Bahati, a.k.a. John-Ann Washington, shares a powerful, personal and important story about mental illness, self-esteem, self-love and courage. She was born and raised in the segregated south during the 1950s and 1960s and has sprinkled the narrative with significant national historical events, and how they personally effected her life. She invites us in for a behind the scenes look at her years as an actress on Broadway and in national touring shows.
At times hilariously funny and always relentlessly honest,You Don't Know Crazy presents an intelligent, informative portrayal of bipolar mood disorder and its effects on Bahati's self-esteem, career, relationships and day-to-day coping.
Wambui also reveals exactly what she did that allowed her to reclaim her life, and she encourages the reader to understand that each and every one of us has an innate wisdom and strength that may have either been forgotten about, or the knowledge has been lost as to how to tap into that inner wisdom and strength. This book will show you how to find that within yourself, and reclaim your own life.
She went from Broadway star to welfare mom.
Some said she was dead.
She was homeless.
Others said she was on drugs.
She was told she would spend her life in and out of mental institutions.
She was told her children could no longer live with her.
When it seemed like her life couldn't get any worse, she decided she only had two options - she could either live, or she could die. If she lived, she told herself it would be on her own terms.
For the past 10 years she has researched, studied and explored various 'quality of life' altering strategies. Her mission was to find out how to have a life of joy, peace and fabulous health – the best life possible! This inspiring woman not only 'got up' when everyone thought she was 'out for the count', but rose to new heights, and continues to soar. You Don't Know Crazy gives you the inspiration and tools that will allow you to soar too!
---
The Author is available for Book Signings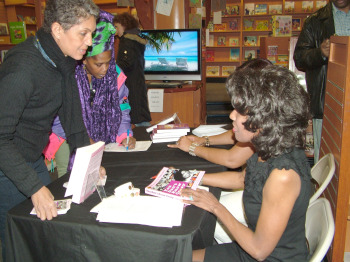 Wambui signs books at Hue-Man Book Store in New York City
---
---
Wambui Bahati has fascinated, moved, and inspired countless audiences with her powerful speeches and one-woman shows. With her first major book, she presents one of the most remarkable personal narratives of all time.
You Don't Know Crazy - My Life Before, During, After, Above and Beyond Mental Illness, is filled with unforgettable vignettes that include some well know characters and famous shows.
Eventually, her struggle with mental illness becomes the underlying and recurring theme in her life. However, her turbulent life breaks wide open with peace and joy when she finally comes to terms with who she really is and what she - you - all of us are capable of.
---
"I have to admit that I had never heard of this person prior to reading her book. However, through her story "You don't Know Crazy" I have come to admire Wambui Bahati . . . This book is written in an honest and often extremely funny way. The author obviously chooses to express herself through humor and this was quite inspiring. She retells her story and as she describes the hell that she went through, I could actually feel myself in her shoes - living it in my own head and heart . . . This was an excellent read".
- www.bookshipper.blogspot.com
---
. . . "You Don't Know Crazy" provides a frank look at aspects of mental illness that people have been avoiding for years. Author Wambui Bahati . . . uses the knowledge and insight she gained to reach out not only to people suffering from Bipolar disorder but also to those suffering from depression, mania and any other disorder that negatively affects their daily life. Her story is heartwarming, and readers will find comfort in following her through her trials and the strength that she eventually discovered . . .
- By R. Malove
---
While You Don't Know Crazy - My Life Before, During, After, Above and Beyond Mental Illness certainly touches all of our hearts. This book especially speaks to women who are living with a diagnosis of depression or bipolar disorder.
Were you ever diagnosed with depression or bipolar disorder? This book will help you feel empowered.
Do you sometimes have low self-esteem issues? This book will help you see yourself with a more positive perspective.
Not only is this a great story, this book is a reminder that we can all re-write the scripts of our lives.
This book reminds us that we are all more powerful than we have been led to believe.
We do have the power to take control of our mind, body and soul.
You Don't Know Crazy will remind you of your own innate wisdom and power.
This compelling book provides you with the insight and tools you need to fall in love with yourself and your life.
Take Charge of Your Mind, Body, Spirit and Joy!