Inspirational Speaker
Inspirational and Motivational Humorist

"Dynamic and Entertaining Inspirational Speaker"
"Her inner fire was a light that set the stage ablaze
and I felt captivated and uplifted by her. . .
It was an inspiring evening and one that I will not soon forget." ~ A.C., Winston Salem, NC

Latest Lecture:
"How to Stop the Self-Inflicted Offense of Being Offended"
---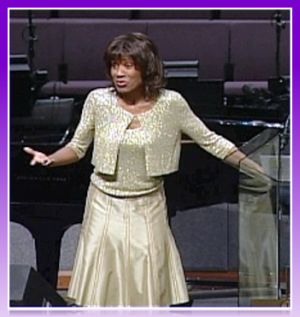 Inspirational and Motivational Speaker, Entertainer and Author
Download Inspirational Speaker One Sheet (PDF)

Don't let her youthful looks and boundless energy fool you! This captivating woman presents with over forty-five years of professional theater and public speaking experience, spanning a wide range of venues, audiences, and cities throughout the United States.
This dynamic survivor draws upon her diverse background and an environment filled with challenging adversities that she miraculously overcame.
She has been a Broadway star. She has been on welfare. She was told she would spend the rest of her life in mental institutions. She has been homeless. She has dined with a former President of the United States.
Wambui enriches her presentations with insightful and dramatic illustrations, stories, songs and humor. She knows what it takes to challenge and inspire her listeners to "remember" just how powerful and wonderful they already are.
In a genuinely honest, compelling and fun way, Wambui tells how she found inspiration and exhilaration out of desperation. As if that's not enough, Wambui shares the strategies, sound advice and universal wisdom that the audience needs to feel good about themselves, release their own creativity and move toward being the success they were born to be.
Each of Wambui Bahati's (Miss Inspiration's) presentations is custom planned to motivate, entertain, awaken the spirit and spark the enthusiasm of the specific audience.
Her passion: "Reminding You of Your Magnificence."
---
Whether Wambui Bahati is:

√ Delivering the keynote speech

√ Leading a conference session, seminar or symposium

√ Raising In-House Consciousness

√ Providing illuminating experiences at Schools and Universities

√ Creating a custom presentation just for your event, or

√ Performing one of her renowned one-woman shows

She Delivers Professionally and Profoundly Every Time