Wambui Walks on Water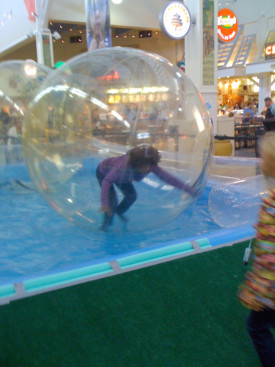 Well, not quite. But I sure gave it a good try.
The day following my domestic violence presentation at Horry-Georgetown Technical Community College in Conway, SC, Professor Leila Rogers picked me up from my hotel to take me to the airport. We had some time to kill before my flight for New York departed. So, after lunch we visited a local mall. (I am with her in the picture below.)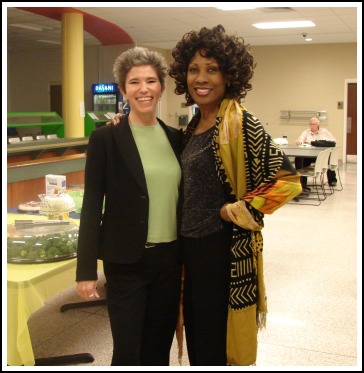 I saw these huge plastic see-through balls in a pool of water in the mall. When I asked what they were, I was told that people get in them and it is either referred to as 'walking on water' or being a 'human hamster'. My eyes lit up like a child's on Christmas morning. I had to try it.
I didn't understand how I would get inside the ball. Once I paid my $7, the guy in charge of the giant balls explained that the ball is deflated, I get in, and then the ball is re-inflated. Oh my! Like being inside a balloon. Oh well, if I didn't make it out alive -- what a great way to go -- what a great headline: "Although Inspirational Speaker and Author, Wambui Bahati, Walked on Fire at Anthony Robbins Event, Attempting to Walk on Water in South Carolina Mall Proved Fatal" - or, something like that.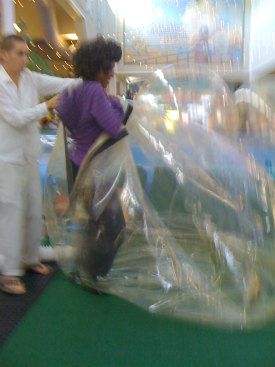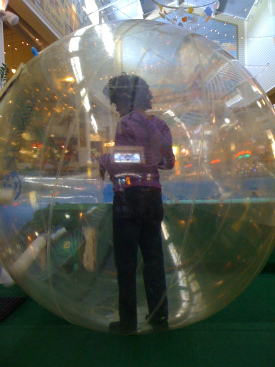 So, I tried it. It was not as easy as I thought it would be. The other people in the mall started gathering around and laughing at me as I continuously fell down. All of my attempts to walk on water or at least be a dignified human hamster failed. But, Boy! What a lot of fun. That was the best $7 I'd ever spent. I can't wait to do it again.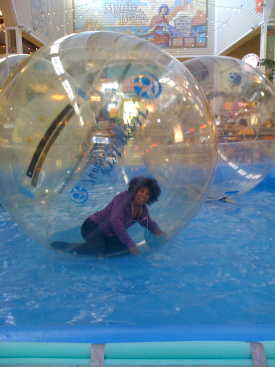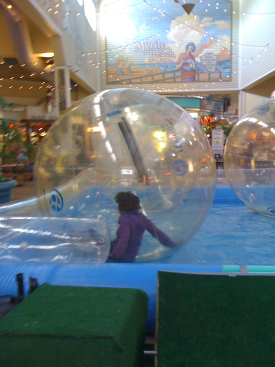 Leila Rogers took these pictures. She did good.
(I think it is usually more than $7. So don't get mad if the guy wants to charge you a little more.)