Crazy for Me FAQ 
Crazy for Me:
How I Got Over Bipolar Disorder 
and Other Life Stuff 
Crazy for Me FAQ: (Frequently Asked Questions) About the CD, Crazy for Me Answered by Wambui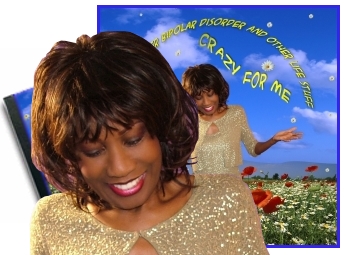 Q. Why do you use the word crazy? Isn't that like keeping the stigma alive?
A. I have found that words are just that - words. It is the meaning and the power that we give a word that allows a word to offend us. I decided to put a different spin on the word crazy.
I decided to used crazy in a way that empowers me. The word crazy is also used to mean "in love with" as in "I'm crazy about you". Another example is the Gershwin musical entitled "Crazy for You".
I realized that until I loved myself and accepted responsibility for me, nothing was going to change in my life for the better. Therefore, I say that I got "Crazy for Me."
Q. Will this CD help me get off my medication?
A. I'm not a doctor. I cannot tell and do not attempt to tell anyone about medication. In this CD and the CDs that will follow, I share strategies and beliefs that have empowered me and have allowed me to live medication and hospital free over the past 13 years.
I do talk about some things that, if we did them, we would definitely see some improvement in the quality of our lives.
Notice, the title is "How I Got Over Bipolar Disorder" - I didn't say cured. (Although I do belieive that each of us has the power to heal ourselves. The challenge is remembering that we have that power and remembering to tap into it.)
In the meantime, I believe we can get over (rise above) bipolar disorder and other life stuff (challenges and stresses) and have a joyful life in spite of what ever the diagnosis is.
Q. Is this a religious inspirational CD?
A. I believe one's religion is one's personal choice. I call Crazy for Me an inspirational CD because it is my intention to inspire the listener no matter what their religious beliefs might be. By inspire, I mean to encourage, to motivate or guide you toward some new empowering ways of thinking.
I think the general tone of the CD is spiritual because I believe that we are spiritual beings. By spiritual beings, I mean that I know there is more to us than our physical bodies and each of us is more powerful, and wiser than we realize. My desire is to remind you of how magnificent you already are.
Q. Why a CD? Weren't you writing a book?
A. When I was not feeling well and I was taking a lot of medication, reading was not always an option. The words were blurry on the page and my concentration was not very good. Therefore, I decided to do a CD first because being able to listen to a CD made all the difference in my recovery.
If I was feeling tired or unmotivated to read, I could lie on my sofa or just sit in a chair with my eyes closed and still get some inspiring and motivating messages.
I hope that Crazy for Me will also do the same for someone who is unable to read or not interested in reading because of complications of the (so-called) dis-ease.
Oh yes, about the book -- I must admit that I spent so much time working on the proposal for the book, that I never got around to actually getting the book finished. Also, even though I speak openly about my mental health history, there was a part of me that was not sure I wanted even more personal stuff about me floating around in book form. I've since gotten over that fear.
I am very proud to announce: the book, You Don't Know Crazy - My Life Before, During, After, Above and Beyond Mental Illness is here!
Crazy for Me ~ How I Got Over Bipolar Disorder and other Life Stuff
"My goal was to share my story so that you would not feel alone, if you are going through some stuff, and to show you something that could help you hurt less, and to stand taller, and to not only accept yourself but to really love yourself." - WB
This CD focuses on the power of the individual, and allows listeners to explore their own possibilities after what, for many, have been years of devastation, isolation and frustration.
---
According to statistics from The National Institute of Mental Health (NIMH), there are more than 5 million Americans who suffer from bipolar disorder.
Although this CD focuses on helping people with mental illness, Crazy for Me - How I Got Over Bipolar Disorder and Other Life Stuff will touch the spirit in all of us.
Unlike other forms of illness, mental illness is often greeted with little sympathy or understanding. The public would be horrified if anyone wrote funny sketches about how cancer patients look and act when they are ill. Yet, people with mental illnesses are the objects of ridicule and laughter every day.
Those recovering are dealing with shame because of the stigma of the illness and shattered lives because of the illness itself. Actor Margot Kidder confessed that she would rather be thought of as an alcoholic and drug abuser than a person with manic depression, after a much-publicized episode brought her