"Singer of Songs" - Vintage
Wambui Sings - Circa 1983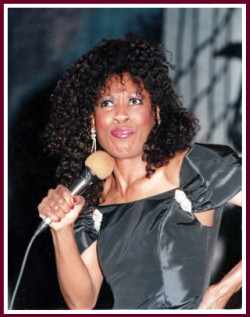 This photo is Wambui (John Ann Washington)
4/22/87 Apollo Amateur Night, NYC

Love Me One More Time (For Old Time's Sake)
Original Artist: Dorothy Moore,
Composed by Frederick Knight
---
Rip Off
Original Artist: Laura Lee,
Songwriters: Bond, Angelo / Weatherspoon, William Henry
---
In her book, You Don't Know Crazy, Wambui talks about this period in her life. Here is a short excerpt:
 . . . I decided I would put an act together, in which I would perform songs that I liked and include comedy routines and play various characters. The person who was doing the closest to what I wanted to do was Bette Midler.
After seeing the movie The Rose, I decided I was "The African Violet." The bass player from Godspell, an exceptional musician, named Mac, was now living in the San Francisco area. I told him what I was interested in doing and hired him to help put a demo tape together.

Tony, who was acting as my manager, was as excited as I was about "The African Violet." I did a few gigs in some small clubs in the area. One of my most heart-warming memories is of Tony coming down to a club in San Francisco to see me perform. We had brought Marie, but she was not allowed in the club.

When I was on stage singing, I could see Tony with Marie on his back in the back carrier outside on the side walk. They watched and cheered me on from the sidewalk that night.

We were just starting to think there were some real possibilities with The African Violet act when out of the blue . . .

---