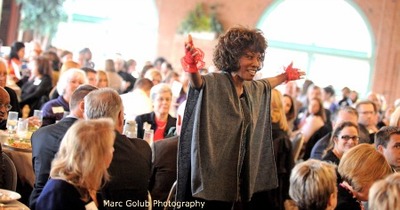 I Am Domestic Violence provoked solemn reflection Wambui Bahati's challenging one woman show electrifies Posted by Kyle Walsh on Fri, Mar 30, 2012 at 2:30 PM
"I am domestic violence!" Wambui Bahati shouted from the crowd, surprising the audience. I, too, was surprised—though for a different reason. I'm not usually a fan of solo theatre performances, and given the subject matter, I came into the Spatz Theatre somewhat skeptical of how the show would go. Domestic violence is a subject that could be difficult to cover solo; but Bahati has clearly perfected her one woman show. Her transition between characters was seamless, even in the middle of stories of utter tragedy, she would slide into a character that would both make the audience roar with laughter and brim with emotion . . .
---
---

I Am Domestic Violence is a A One-Woman Performance Presentation

...Yet Rivers, who has appeared in such films as Zorro, Amistad and Hulk, did not even give the most dramatic presentation of the morning. His keynote address came after Greensboro, N.C., actor Wambui Bahati presented a part of her one-act play I Am Domestic Violence. Bahati, another survivor, took on the persona of abuse and loudly challenged the audience not to ignore the destruction it wreaks. With the use of various coats and blouses, she then assumed the role of seven different characters to illustrate that domestic violence knows no boundaries."Somebody run and tell somebody," Bahati crooned. "This ain't how it's supposed to be."

Ernest Hooper,St Petersburg Times Columnist
---
This Electrifying One-Woman Performance was created by Wambui Bahati at the request of a YWCA for "a week without violence" campaign program. After what was supposed to be a onetime event in 1998, word-of-mouth about the show quickly spread. Today, I Am Domestic Violence is still in demand for women's conferences, schools, college campuses and in-house corporate awareness programs.
---
I Am Domestic Violence is popular in all regions of the United States. This dynamic program always stimulates more understanding and discussion on the important topic of domestic violence among people of all backgrounds and ages.
---
Wambui takes on the powerful persona of Domestic Violence, a character who speaks proudly and arrogantly of destroying lives with little resistance. Through this performance we also meet men, women, and children (portrayed by Wambui) who's lives have been touched by domestic violence.
Wambui Bahati takes Domestic Violence out of the closet! With entertaining dialogue and even some humor, her presentation eases in the 'stats' and the facts. The audience feels the impact of Domestic Violence. In this important and compelling show Domestic Violence is walking and talking among the audience!
This seasoned actress takes the audience on an enlightening and emotional roller coaster ride. When the ride is over, the audience is furious with Domestic Violence.
---
"Somebody run and tell somebody…too many people living in secrecy…too many people dying unnecessarily." - (song lyrics, "I Am Domestic Violence")
---

The Play   / After the Play   /   The Reviews

---